Abel Landscaping Ormskirk
Full of imagination to create your dream garden or driveway!
Book Your Survey Today 0330 119 3333
We are a professional landscaping company carrying out all aspects of landscape work to the highest quality throughout the Ormskirk areas. Here at Abel Landscapes, we are customer focused, always working with our customers each step of the way on their projects. You can add or take away items from your design so that you receive the dream garden that you have wished and paid for. As we are Marshalls Registered you can rest assured that your installation will be carried out to the highest of standards.
Landscaping –  Ormskirk
We provide many landscaping services in Lancashire. Here are just some of the services that we provide:
⇒ Landscaping
⇒ Garden Makeovers
⇒ Decking
⇒ Pergolas
⇒ Ponds
⇒ Water Features
⇒ Walls
⇒ Fencing
⇒ Lawns
Driveways –  Ormskirk
Driveways can be as traditional or as contemporary as you wish to fit in with your property. Here are just some of our the driveway services that we provide:  The Best low maintenance solution is the Marshalls Cobbletech driveway system, other options are as follows:
⇒ Block Paving
⇒ Natural Stone
⇒ Slabs
⇒ Gravel
"Block paving is a great choice for your driveway' 

Marshalls Registered landscape and driveway company. With all of our experience and knowledge of landscaping, garden makeovers, garden design and all other aspects of landscaping, you can be sure of peace of mind. We always deliver top quality installations using only the best of products. We can also offer you a 10-year guarantee where Marshalls Products are used.
Garden Designs  – Ormskirk
We offer a unique garden design service to all of our customers in Ormskirk, Lancashire. All landscape designs are carried out by our fully qualified landscape architect. Or if you have your own design we are happy to install it for you. Even if you do decide to go with one of our designs we are happy to add your ideas to our plan so that your garden is uniquely personalised to you.
Decking – Ormskirk
The advantages decking
High quality and sustainable material
Safe to handle and touch
High level of thermal insulation
The lowest CO2 cost of any commercial building
Easy and fast construction
 Energy efficient &  cost-effective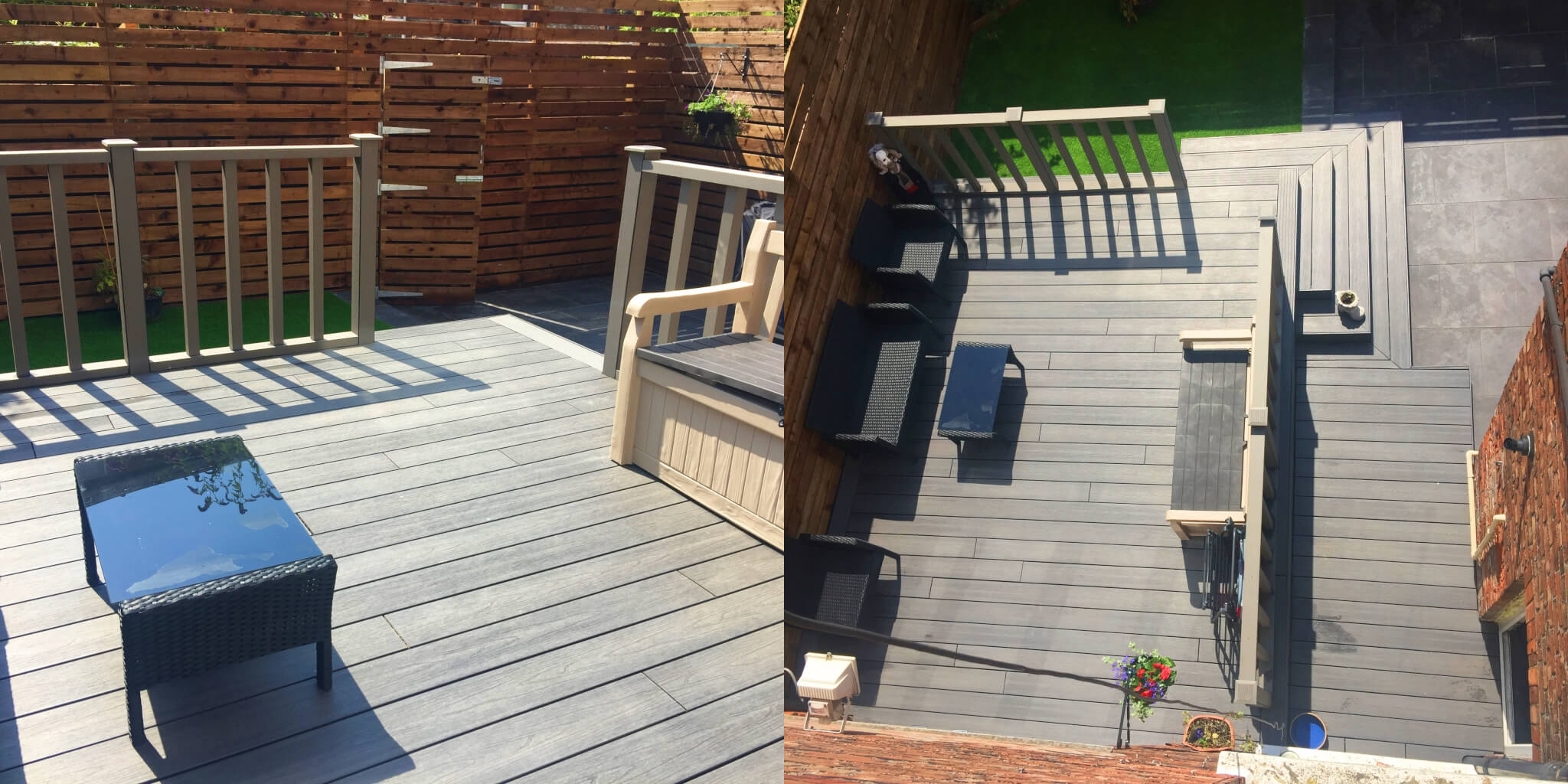 "A large area of stunning grey decking installed with handrails and steps."
Stunning contemporary fencing
Here at Abel, we now offer a wide of range of fencing from modern to standard. We like to offer our customers a variety of materials before installing them because we know once they are installed they will last for several years.

"Contemporary fencing installed by the team."
Book An Appointment Today!
Just one of our stunning award winning garden makeovers completed by the team. This garden has Marshalls fairstone paving, Glass Handrails, A large outdoor fireplace and plants all around the garden to create a beautiful finish.
"Marshalls Fairstone Sawn Natural stone paving  project in Ormskirk "
Book An Appointment Today
0330 119 3333
We understand that most of our customers in Ormskirk want a "WOW!" factor landscape or driveway project; something that sets their property apart from all the rest. This is why we work with our customers to achieve exactly what they want, allowing flexibility in design at all stages. To book an appointment today please fill out our contact form.
---
Areas In Ormskirk we Cover:
Bangors Green, Clieves Hills, Halsall, Downholland, Town Green, Westhead, Lathom, Stanley Gate
---
Services Available in Ormskirk:
What Our Customers Say
What a fantastic job you and your team have done in a short space of time! Don't regret hiring you one bit. I would recommend Abel Landscapes highly.

Robert Broomfield, Knowsley