Abel Landscaping Skelmersdale
"Your Local Professional Landscaping & Driveway Services"
Landscaping & Driveways Skelmersdale
Abel Landscaping has over 30 years of experience in landscaping and driveway installation work. We are a professional landscaping company working in Skelmersdale and surrounding area and are part of the Marshalls Register scheme. All of our installations meet the high standards that Marshalls have set and we are consistently assessed by them. You can be certain that you will receive your dream garden or driveway if you choose our company to carry out your work.
We carry out a number of landscaping services in Skelmersdale and surrounding areas. Below are just some of the services that we provide:

"Stunning garden makeover completed by Abel Landscaping.
We install all types of driveway product to any shape or size driveway. Here are just some of the driveway types and services we carry out in Skelmersdale:
There are lots of benefits of using cobble paving and one advantage is that if one of the cobbles are damaged you can simply take it out and replace it with another one rather than doing the whole job again. Also if the cobbled paving is installed correctly it will last serval years before it will need doing again. Using cobble paving on your driveway looks really nice and you can make unique designs and patterns with the cobbles.

"Marshalls Cobbletech paving driveway."
Block paving is probably the most common type of driveways we install here at Abel at here are a few reasons why. There are a variety of shapes and sizes to pick from, Enhances the loom of your property, Adds value to your property, Repairs are not too costly and individual blocks can be replaced easily, Allows for easy drainage and it is really reliable and once installed it will last for serval years.

"Marshalls light grey block paving driveway."
Artificial grass has become really popular over the years and here are a few reasons why. A lot of families get it installed in their garden because they believe it is safer for their children to play, Also when it rains the water on the artificial grass drains quickly which is good because it doesn't flood the grass doesn't get damaged, It is also safe for pets, long lasting an durable and the artificial grass doesn't get any mud like you would with normal grass.

"Artificial grass projects installed by the team."
Timber is a natural building material that offers superior performance and environmental advantages. It is a versatile, sustainable, attractive and cost-effective building material that combines beauty, performance, and environmental advantage. Decking hides all uneven grounds and is a nice surface to walk on and to put outdoor furniture on.
The advantages of timber
high quality and sustainable material
safe to handle and touch
high level of thermal insulation
the lowest CO2 cost of any commercial building
easy and fast construction
 energy efficient &  cost-effective

"Landscape timbers give every homeowner the ability to turn their eyesore exterior into a landscaping masterpiece"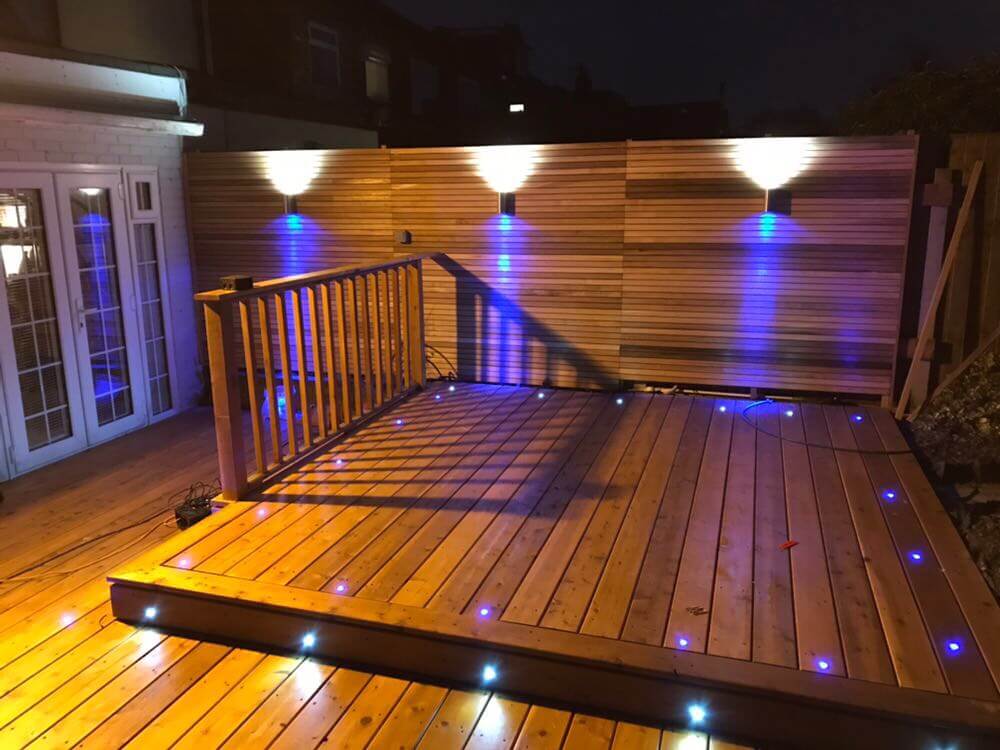 "Decking projected completed by the team and installed with stunning blue lights to brighten up your garden."
We offer a unique garden design service to all of our customers in Skelmersdale, Lancashire. All landscape designs are carried out by our fully qualified landscape architect.
Stunning landscaping designs

If you have any questions about our services or would like us to give you a quote for some work, please drop us an email using the simple form below or alternatively give us a call and we will be more than happy to help.
For more information on our wide range of garden services, call us today
 0330 119 3333
Services Available in Skelmersdale:
What Our Customers Say
What a fantastic job you and your team have done in a short space of time! Don't regret hiring you one bit. I would recommend Abel Landscapes highly.

Robert Broomfield, Knowsley