Decking
We are a professional decking company who install decking features in any type.
Decking are one of the best ways to create an amazing outdoor space to relax or entertain in your garden.
Having a well-designed deck is a way to connect the indoor and outdoor space of your home. Whether your garden is, a country garden, small garden in town or compact terrace, you'll want to get the most from your garden decking, so let us help you transform it into a practical and stylish spot for entertaining, dining, or simply just relaxing.
There are many options when it comes to decking structures. We're going to run through the three most popular ones:
Raised Decking
Raised deck is a great way to make the most of the space that can otherwise go unused such as slopes and uneven areas, creating a level space for entertaining, eating al fresco, or just sitting out and enjoying the sunshine.
"This is a great option if you have a sloped or split-level landscape in your garden"
Levelling Sloping Gardens
Decking on multiple levels is the first choice for most people but can cost a large sum to have to privilege. This style of decking has the ability to completely transform a garden into a perfect place to host, entertain or relax on a summer day. A brilliant idea for this decking is to have different purposed for different levels; perhaps comfortable seating on one level and a barbeque or hot tub on another. If you are planning on having the latter of those items make sure your decking is supported well enough to carry the heavyweight.
Ground level Decking
The most common level of decking is, of course, ground level as it is the least complex to build and least expensive. That doesn't mean it isn't a great addition to your garden and a different way to go for garden entertaining as opposed to a patio
This type of installation is the most common type that we carry out.
'This type of installation is the most common type that we carry out"
Quality Decking Materials
We can install garden decking of different shapes and sizes. We only install quality decking materials such as cedar wood and timber, by qualified joiners and we guarantee that every decking project installed by us will be installed professionally.
Selecting the Right Deck Materials
There are several options for decking material, with four factors that affect your choice: durability, availability, looks, and cost.
Cedar Decking:  The most popular and gives that classic hardwood look, this rot-resistant wood is strong and durable.
Redwood:  is a premium deck material, both in look and durability. This is a popular, naturally rot-resistant wood. With a clear sealer applied biannually, redwood will last a long time.
Composite: For a long-lasting and innovative decking option, choose composite decking Plastic or a composite material requires very little maintenance after installation.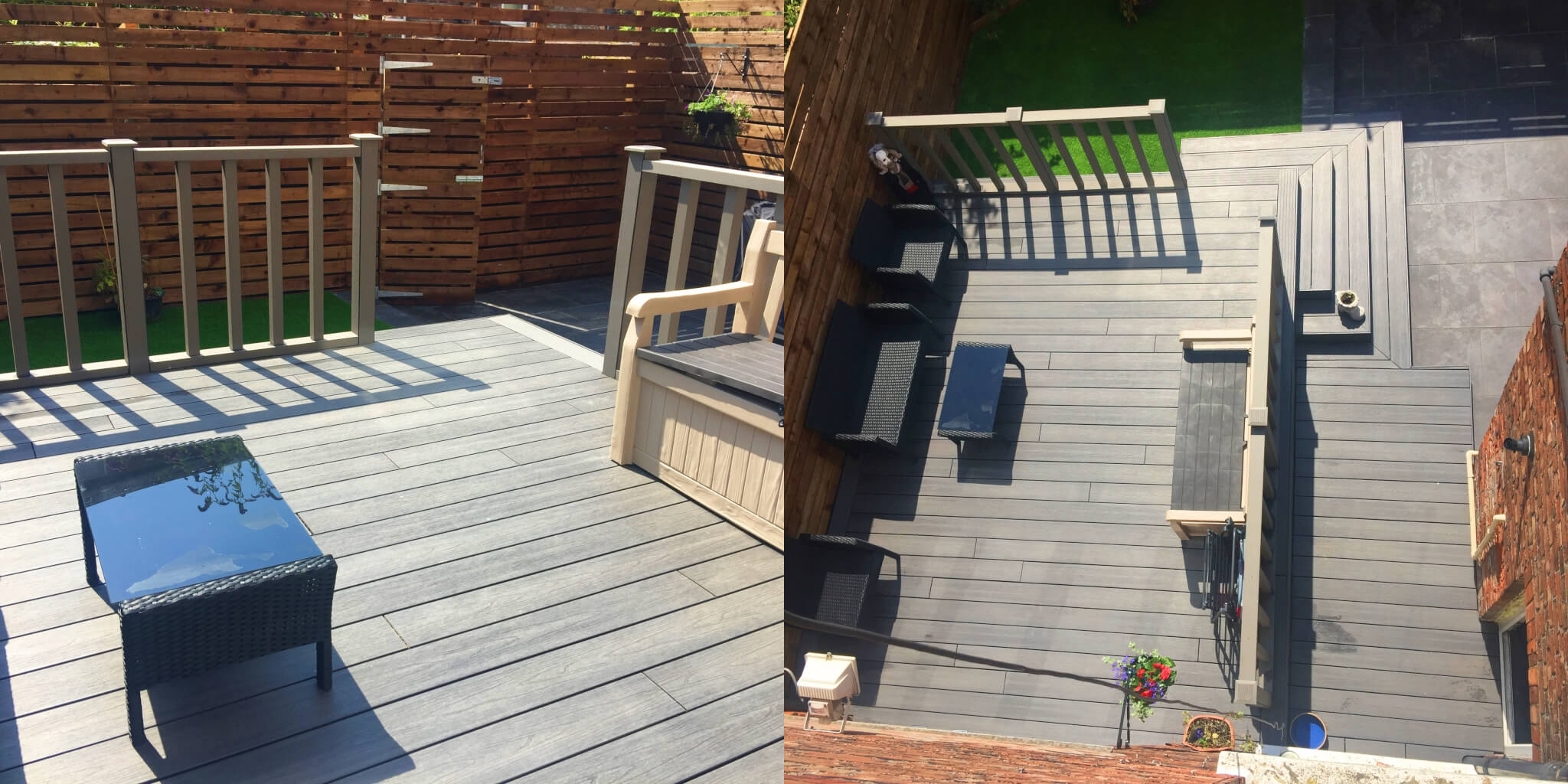 "Composite decking is incredibly easy to maintain – it's easily wiped clean with soap and water "
Decking Features
Complete your deck with these decking features:
Lighting your deck
Lighting can add a real 'wow' factor to your structure & is especially useful if you plan on using your new decking during evenings.
 Floor Lights,  many retailers offer lights which can be built into the decking boards themselves.
Post Lights,  available in a variety of styles. Solar-powered lights are also practical & eco-friendly – avoiding the need to wire-up your decking.
Wall Lights,  these are lights which are built into the wall above your decking & are often triggered by movement sensors.
"lighting is highly recommended for visual appeal and can also help to make your home and garden a much safer place"
Handrails
Decking handrails (also commonly known as balustrades) are useful for both aesthetic & practical purposes. For children & the elderly (who may be unstable underfoot) they are essential for safety on any high structures.
" Glass Balustrades Handrail"                                                                 "Timber Handrail"
Seating
Decks are excellent for entertaining guests.  However, they will all need somewhere to sit! Most people will utilise portable chairs and tables which can look great – but for those who want to add something special to their structure; built-in seating can look fantastic & is incredibly practical.
''Build-in seating are looking incredible to any decking"
Whatever decking feature you are looking for we can help you design your idea and then install it for you.
Book Survey Today: 0330 119 3333
What Our Customers Say
Many thanks to Abel Landscaping for a great job they did in transforming our drive and front garden. We are delighted with the quality and look of the finished job. Very good service from a highly professional and efficient company. Helpful initial design ideas from Darren with options all priced for us to make the final choice. Work was stated very promptly and afterwards and the exceptionally hard -working, polite and friendly tradesmen who managed to complete the whole job in just five days .

Amazing!

Ken Lewis

Runcorn