Garden Rooms
A comfortable year-round living space
Bespoke Garden Rooms
The bespoke garden room or summer house is a garden building to be proud of, especially as you can be sure that your friends and neighbours won't have one that looks the same. If you're looking for a customisable summer house that's just perfect for you call us today at Abel we can make your dreams a reality.
"Garden rooms and Summerhouses are being used for so many different uses these days, such as a home office, an extra bedroom, a home gym, music room or just some extra storage for your belongings"
To have your own garden room, you don't particularly need a large garden, garden rooms come in many shapes and sizes from small pods for just small office space to larger rooms suitable for entertaining. We can install lights, electricity and central heating to your garden room to make it feel like a home and useable all year round.
Garden Room is far more thermally efficient than a conservatory, which means that you can use it as a space for everyday living, whether it is summer or winter. Its energy efficiency also comes alongside superior soundproofing, which is important in this room that you want to be able to use all year-round. These garden rooms are great at any time of year, thanks to their heat-capturing features. So, there's no need to imagine that a garden room is just for warmer weather.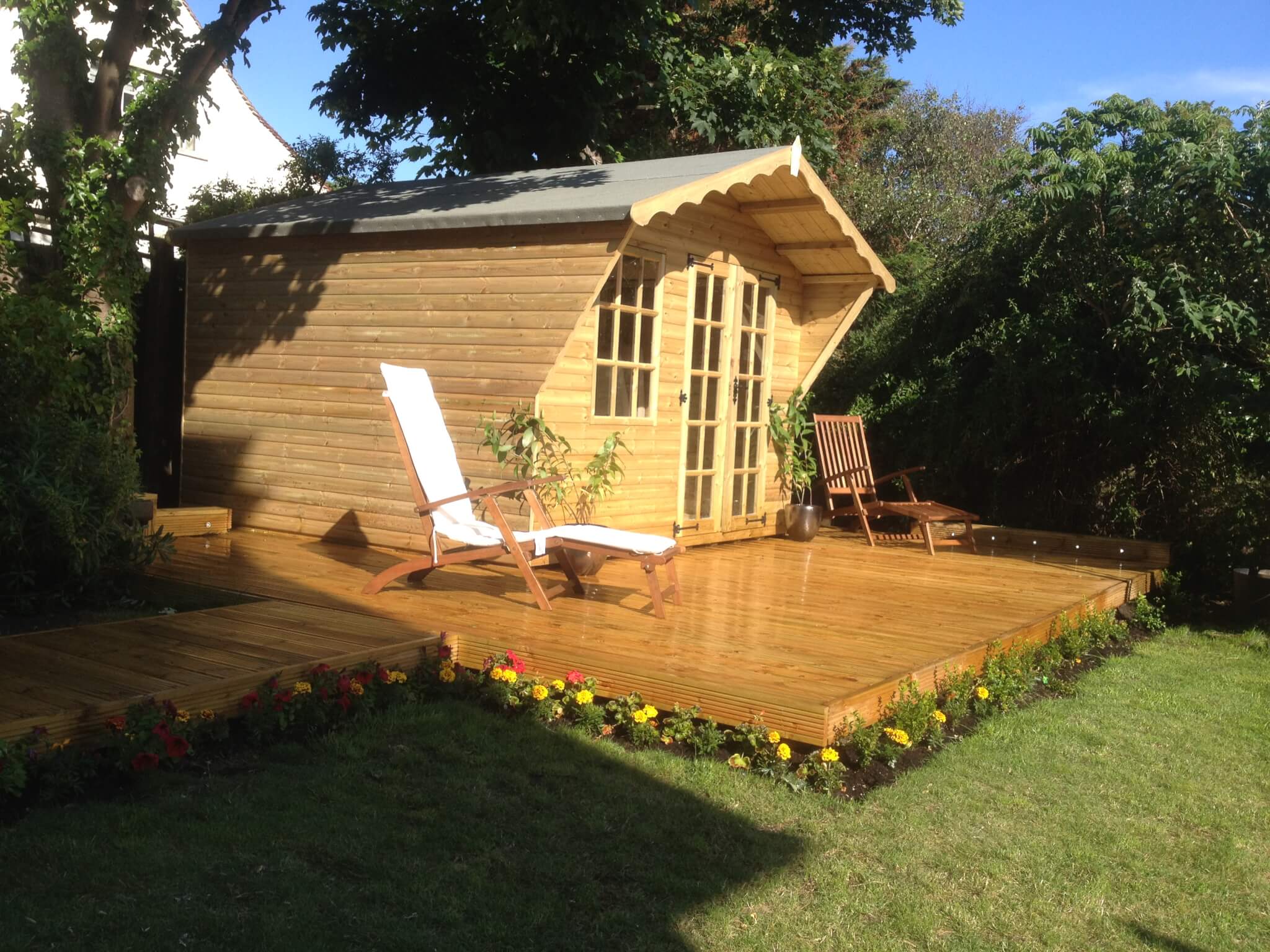 The advantages of garden room
An attractive guest house
It's an asset that can add value to your property
More versatile than a conservatory but about the same price
More comfort in winter.
Ideal for garden parties
The garden room is more like a house extension than an 'add-on' structure, in both use and appearance. Also, compared to a traditional brick-built house extension, the garden room can have a simpler construction and a lower cost.
"Creating an entertaining room is the most popular use for a garden room"
Bring light to your summer house
 In order to enjoy your summerhouse throughout the whole year adding electricity is essential. The type of lighting you use in your summerhouse is completely dependent on how you intend to use the room. Florescent tube lights give even light which is great for a home gym or studio. If you are planning to spend time working at a desk I would recommend adding spotlighting around your work area. Summerhouses that are purely for leisure will benefit from soft overhead lighting or pools of warm light created by floor and table lamps.

"Exterior lighting helps give dimension to a building and the landscape surrounding it."
 Insulated Your Garden Room
If you want to spend time in your garden summerhouse all year round,  you'll need to make sure it's a homely place to be. That doesn't just mean kitting out your garden-based getaway with comfy chairs, cushions and throws either. Ensuring that your summerhouse or Garden room is just the right temperature inside installing insulation can help you to do this.
Insulating a garden room will enable you to make the most out of it. You and your family will be able to snuggle up in your garden-based haven in autumn and winter and relax in it with a cool drink while enjoying close-up views of your garden in spring and summer.
We also offer a wide range of other optional features, including the roof ,floor insulation, heating systems, and electrical packages.

More Installation Options
Our full services included:
Concrete Base Preparation
Log Cabin Assembly
Electrical Installation
Roof Tiles
Roof & Floor Insulation
Under Floor Heating
Laminate & Real Wood Flooring
Painting & Maintenance

" A corner summerhouse can be a real space saver and a stunning location for those summer parties, without taking up the entire garden."
**************

If you are interested in a bespoke garden building in order to maximise your living space, get in touch.  We can design it in a way that is best suited for its purpose. You can contact us by phone to discuss or request a call back by filling out the contact form provided.
0330 119 3333
What Our Customers Say
Customer Service is one of our main priorities here at Abel. We always work with our customers throughout all stages of their project ensuring that they are happy with their installation. Tony wanted to tell others about his experience with us.

Tony

See The Project